'Bartek' Mazur,
whose life was changed by war
---


By J.E. GESHWILER The Atlanta Journal-Constitution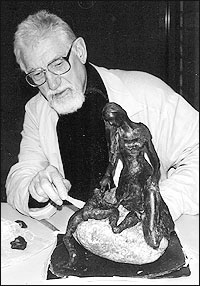 Family photo.
A psychiatrist by profession, Polish-born Dr. Wladyslaw "Bartek" Mazur
was also skilled in sculpting and painting.

Episodes in Dr. Wladyslaw "Bartek" Mazur's life could be made into a movie.

In fact, the Battle of Arnhem during World War II, in which he took part as a Free Polish paratrooper,
was made into a motion picture -- "A Bridge Too Far."

Recently, Dr. Mazur was working on a film script based on his own harrowing escape
from Nazi-occupied Poland and from jails in Switzerland, France and Spain,
where he was detained for having no papers or money.
In the end, though, he made his way to Britain to join the Free Polish forces.

The memorial service for Dr. Mazur, 81, of Marietta is 2 p.m. Friday at Holy Family Catholic Church.
He died Sunday of heart failure at WellStar Kennestone Hospital.
The body will be cremated. H.M. Patterson & Son, Canton Hill, is in charge of arrangements.

The Battle of Arnhem was a turning point in Dr. Mazur's life.
He and other Poles were air-dropped mistakenly into the midst of German forces and took heavy casualties.
Seeing the carnage around him, he decided to be a doctor and alleviate human suffering,
he said in a 1993 Atlanta Journal-Constitution interview.

"When I escaped from Poland, my only goal was to kill Germans
because they had killed my father brutally," he said.
"I was ashamed I did not kill any, but after I became a physician and had children,
I was glad I did not kill anyone."

After completing his psychiatric studies in Scotland, he settled in the United States in 1956.
He served at hospitals in Ohio and Kansas, then came to Georgia in 1974
as superintendent of a new state mental hospital in Columbus.

A decade later, he joined Brawner Hospital in Cobb County, treating young alcoholics and drug addicts.
He looked after inmates at the Phillips Correctional Institute in Buford.
"He gave excellent care and was compassionate with the inmates,
remembering he was locked up himself in European jails," said Bill Wesley of Atlanta, a co-worker.

Off hours were devoted to sculpting and painting. "Bartek was so versatile,"
said Annie Love of Gainesville, a fellow artist.
"You could sense his experiences as a mental health healer in some of his work."

His wife, Kay Mazur, explained his nickname, "Bartek," by which most people knew him.
Since he was born on St. Bartholomew's Day, he should have been given that name or the Polish diminutive, Bartek.
But his grandfathers stopped on their way to his christening and decided
over a few drinks that he should be called Wladyslaw instead, and that was that.

Survivors include three daughters, Edina Alavi of Marietta,
Kristyna Landt of Atlanta
and Emi Brack of Bexley, Ohio;
three sons, Leszek Mazur of Columbus,
Adam Mazur of Marietta
and Peter Mazur of Tampa;
eight grandchildren;
and one great-grandchild.


---
Powrót do poprzedniej strony
Powrót do pierwszej strony
Strona utworzona dnia 7-02-2003
przy pomocy programu Pajączek 2000 PRO